In the semi-finals of the 2022 AFC U19 Championship, Vietnam U19 suddenly lost 0-3 to Malaysia U19, thus accepting the third place with Thailand U19. Vietnam U19s, who failed to claim the title, made a lot of impressions in this year's event, especially Khuat Van Khang personally. The Vietnam U19 captain deserves to be a leader both in game and spirit.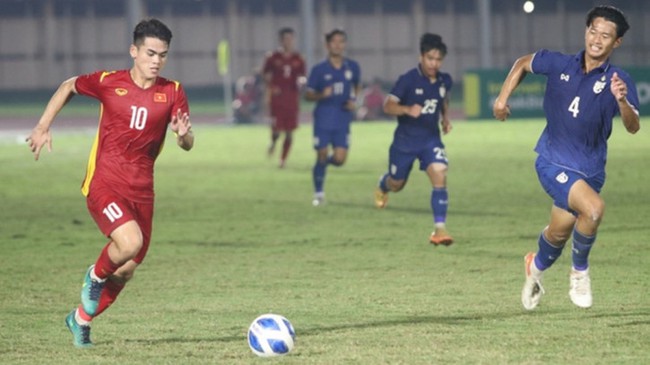 After 6 games, Khuat Van Khang has scored 3 goals, just 1 behind the World Cup top scorer Quoc Viet. Not only professional contributions, but also Khuat Van Khang's rich experience has helped Vietnam U19 overcome many difficulties and pull his teammates forward.
Khuat Van Khang's performance resonated immensely. Recently, the 19-year-old appeared on the world-renowned football Twitter account of the Boy Scout of Football Talents – Jacek Kulig. This account is dedicated to showcasing young football talents who are resonating around the world. Players "live" by Football Talent Scout – Jacek Kulig, always good players in youth tournaments.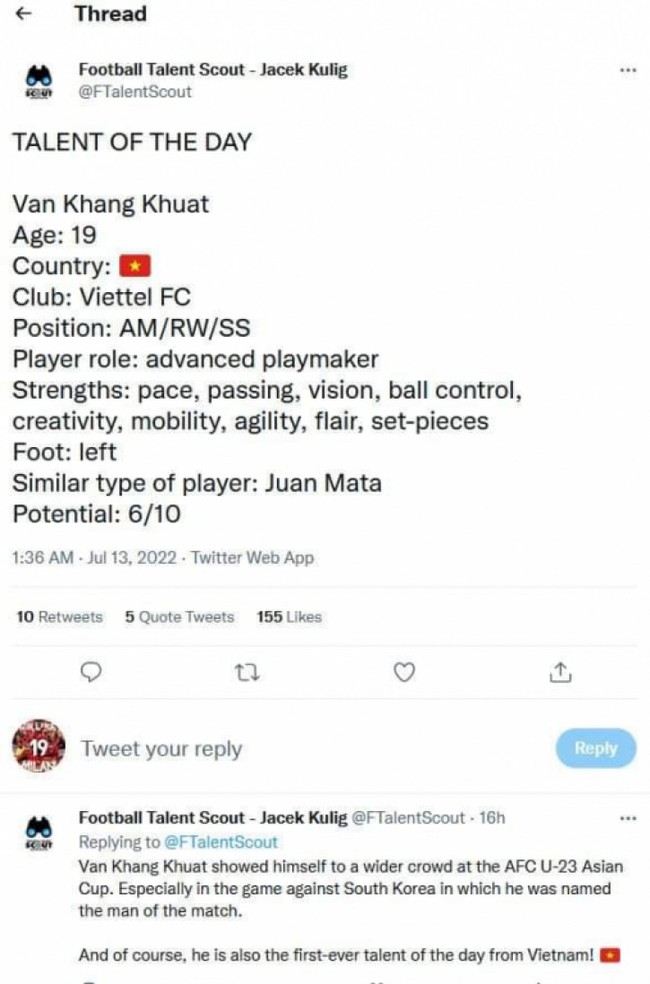 Khuat Van Khang became the first Vietnamese player to be honored by the Football Talent Scout – Jacek Kulig. Regarding the captain of the U19 Vietnam team, football talent scout Jacek Kulig commented that Khuat Van Khang has speed, creativity, keen observation, good passing and skilled ball control. Additionally, Khuat Van Khang is very nimble, mobile and a dead-ball specialist, with the same playstyle as former MU star Juan Mata, scoring 6/10.
19-year-old Khuat Van Khang still has a lot to improve. However, being introduced on the famous Twitter page is a huge motivation for Van Khang to continue improving himself in the future. Van Khang's goal is of course to play well, to participate in the Vietnam U23 team, and more importantly, the national team.
Currently, at 15:30 on July 15, Khuat Van Khang and his teammates still have a third-place match against Thailand U19.